It was a nice long weekend but alas I was tethered to the on call phone and had to stay in the area (Good thing I did as I was called in). We were getting a bit stir crazy and decided to spend a night and take a stay-cation or fake-cation as the case may be at the Galle Face Hotel which is known as one of if not the oldest hotels in the Orient (Built in 1864).
The hotel has two sides, the Regency side and the Classic side. The Regency side has been refurbished and is more upscale, you can figure out what the Classic side is. We picked a Deluxe Oceanic Suite with a sea side view. It was a very large room with a big jacuzzi tub, king sized bed and two separate balconies. We were also given access to the Executive lounge which was a perk for working for the company. They never did explain what the card entitled us to which meant we lost out on afternoon tea and free happy hour drinks (Although we don't drink it would have been nice to grab some hors d'ouevers.
Our main objective was to leave the laptops at home and lounge around the big salt water pool and get away from the city. Now the funny thing about all of this is that we can literally see our apartment building from the hotel!
We were curious to see the hotels 20,000 square foot spa. I had never seen anything like this. There was a room for just about every spa treatment you can think of. I had never seen a sensory deprivation chamber and after seeing one don't think I want to try it and at $65 an hour don't think I would anyway. The gym had a trainer and the men's locker room was equipped with sauna, steam shower and jacuzzi tubs. I made use of the jacuzzi for my back.
In the morning I decided to see what the VIP card entitled me to so I went to the Executive lounge and asked about breakfast, I showed him my card and he said that they offered a continental breakfast for free, which I thought was fine. I went back and grabbed Chris and we made our plates and had some fresh juices. The waiter asked if I wanted some eggs with bacon or sausage or both, I thought why not. I ordered some scrambled eggs and he came back with a very fancy plate of eggs and bacon. I was pretty much stuffed after this. There was only one other couple in the lounge. Next time I'll make more use of this place.
Here are a few photos I took of our stay and a video of the room: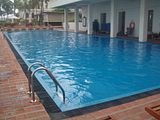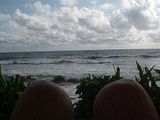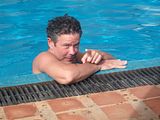 Yours truly in the pool


Tall building in the background is our apartment and Chris checking out the room service menu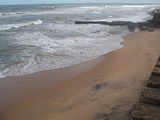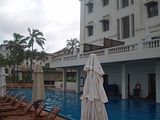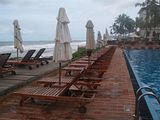 The beach is not very user friendly here. It was cloudy Sunday but I got sunburned (Again) Saturday